Our Success Stories for the past year...
(Lost Item #3362)
In January 2023 I purchased a Minelab Equinox 900 after years of not participating in this hobby. I stumbled upon this Facebook group and saw that a week or two prior to me signing up somebody had entered a lost item report about 30 minutes from my house. So I signed up for the group and contacted the owner. He had lost a custom made ring that was made for his dad by melting down his deceased mom's gold. After his dad passed he was given the ring. It was another week before I could get out there. In the meantime the road side had been bush hogged!!!
My wife and I arrived about 10:30 a.m. and he had a general vicinity of about 30ft long and 5-6ft deep where he figured the ring could be.
We started searching with my detector's larger coil but there was so much trash that after a couple hours I ended up switching to my smaller one. We ended up having to take a break so I went and purchased a rake, then my wife raked & piled up the dead grass. I then searched through the dead grass and she put it aside. I started searching past his most northern marker and found it within about 3 minutes, 8ft North of where his marker was!!
The Found Ring !!!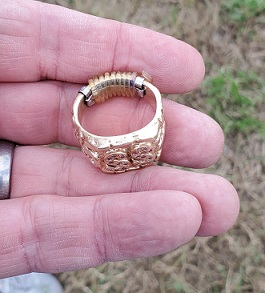 ~ ~ ~ ~ ~ ~ ~ ~ ~ ~ ~ ~ ~ ~ ~ ~ ~ ~ ~ ~ ~ ~ ~ ~ ~ ~ ~ ~ ~ ~ ~ ~ ~ ~
Click here to see more of our Success Stories.